Ditch Remediation Program
Ditches are extremely effective at rapidly removing water from our properties and roads, but left as they often are, ditches also are an extremely effective way to transport sediments and nutrients into tributaries and streams. These carry their acquired loads downstream eventually depositing them into our lakes (and oceans). Water bodies have accommodated much of our abuse but now are at or beyond their absorbing capacities. Incoming flows need to be slowed so that sediments can settle out. Ditches, if left raw after periodic cleaning or because of steepness also need help.
OWLA volunteers collaborate with land owners, the Cayuga County Watershed Inspection Office, and the Cayuga County Soil and Water Conservation District to find and reduce sediment runoff into watershed ditches, streams, and Owasco Lake itself.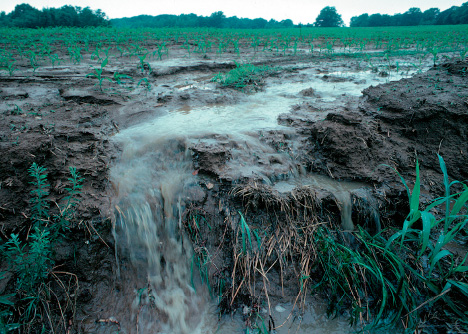 Runoff from rain events carries manure and chemical fertilizers into the watershed system.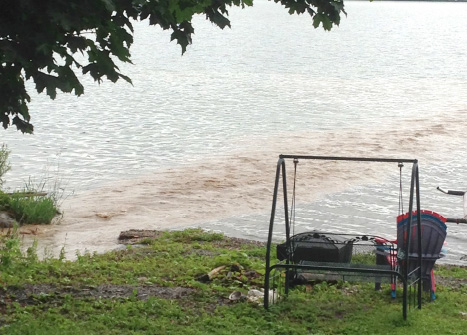 Sediment and nutrients entering Owasco Lake from the upstream land uses drained by an intermittent tributary.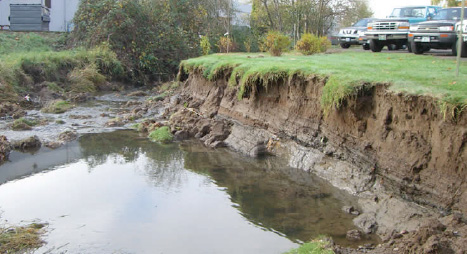 A severely eroded stream bank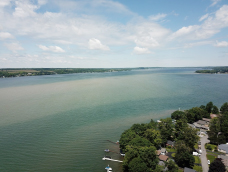 Severe Storms: The June 19th and 20th 2019 storm over the Owasco watershed dumped approximately 4 inches of water in 8 hours.
Erosion, Nutrient Pollution, and Algal Blooms: Runoff from the storm carried approximately 500 tons of soil into the lake. This soil, rich in Nitrogen and Phosphorus, pollutes the lake with nutrients essential to algae growth and related Harmful Algal Blooms.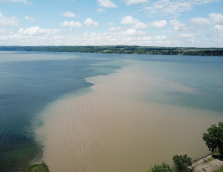 The Good News:
Scientists estimate that more than 20% of the sediment and nutrients reaching the lake came from eroding roadside ditches. This can be easily fixed by hydroseeding exposed soil and using rock on steep ditch surfaces. OWLA and partners have a Ditch Remediation Program now underway to reduce soil and nutrient erosion into the lake.
What can you do to HELP?
Protecting Owasco Lake is essential to the maintenance of our community character and the improvement of our economic future. We encourage everyone to help the Owasco Watershed Lake Association personally and/or financially. By this commitment you will help keep Owasco Lake clean and safe.