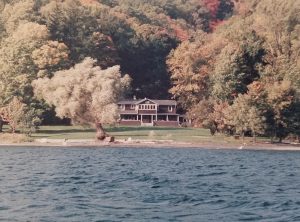 Willow Point is located on the west side of Owasco Lake approximately ten miles south of Auburn and seven miles north of Moravia, The land was named Willow Point because of a grove of Willow trees that grew on the north side of the property.
The property was purchased in 1870 by David Munson Osborne, founder of D.M. Osborne & Company, and his father-in-law, David Wright.  A long winding driveway surrounded by woods runs down to the house. At the end of the drive is a small bridge and a short distance beyond that is a large brown shingle house trimmed in blue.  It is situated on a lawn that stretches down to the lake. A bed of perennial flowers surrounds the house and a cutting garden leads down to the lathe water. A stream with five waterfalls runs through the property and a path approximately half mile long runs south along the shoreline. The path was originally part of a plank road that ran from Auburn to Moravia .The plank road later became a part of the Lehigh Valley railroad line.   The house, built in 1840, was originally the toll house for the plank road.
The Osbornes have owned the property since 1870. Thomas Mott Osborne, the prison reformer, was give the home by his father David Munson. There was a time, however, when he did not live there.  In May of 1918 a letter from Gerald Boardman to Thomas Mott Osborne said: "Do you want to (or rather) will you sell Willow Point.  A man asked me for the price on it today.  The house is pretty well shot to pieces & the ice house, etc. burned down the other day. I cannot see where you will ever have much use for the place & none of your boys take any interest in it. Let me know at once if you wish to sell & your idea of price.  I know for sentimental reasons you may not feel like parting with the place & it is a lonely spot but sentimental is getting a touch expensive these days…"
Thomas Mott Osborne's replied:"I presume I would sell Willow Point but not until after I have parted with 115 South Street — 99 South Street- all my books and my clothes.  When I have nothing left to sell except my soul — then I'll do it. It is not a matter of sentiment; Willow Point is a matter of life itself. I couldn't part with it without losing something far more valuable than a limb. I am sorry the ice-house it gone — I shouldn't mind if the house is gone too.  It is such a mournful old ruin; but someday I hope to put up a tent where I can go and spend the last years of my life…"
The house has had many well known  guests over the years. The guest book has many interesting signatures. On June 5th, 1897 Elizabeth Cady Stanton signed the guest book, having visited nine days. Susan B. Anthony visited from June 6th to June 14th at Willow Point to discuss their struggle for voting rights for women. Their signatures are in the archives at Syracuse University.
In 1848 Elizabeth Stanton,  Martha Coffin Wright and her sister, Lucretia Coffin Mott  had convened the first Women's Rights Convention and issued the Declaration of Sentiments demanding votes for women. Stanton and Anthony together edited and published a woman's newspaper "The Revolution" from 1868 to 1872. They founded the National Woman's Suffragette Association, and traveled all over the country promoting woman's rights.
Eliza Wright Osborne followed in the steps of her mother and her Aunt Lucretia and devoted her energy to her household, to the fight to enfranchising woman and to promoting art and education.  A book entitled 'A Very Dangerous Woman" is a biography of Martha Wright's life. All of these outstanding women, their beliefs and achievements can be seen by visiting The Woman's Hall of Fame in Seneca Fall.
The house was given by T.M. Osborne to his son Lithgow and left by Lithgow to his son Erik, who lives there now. Today, Willow Point remains a peaceful summer retreat.