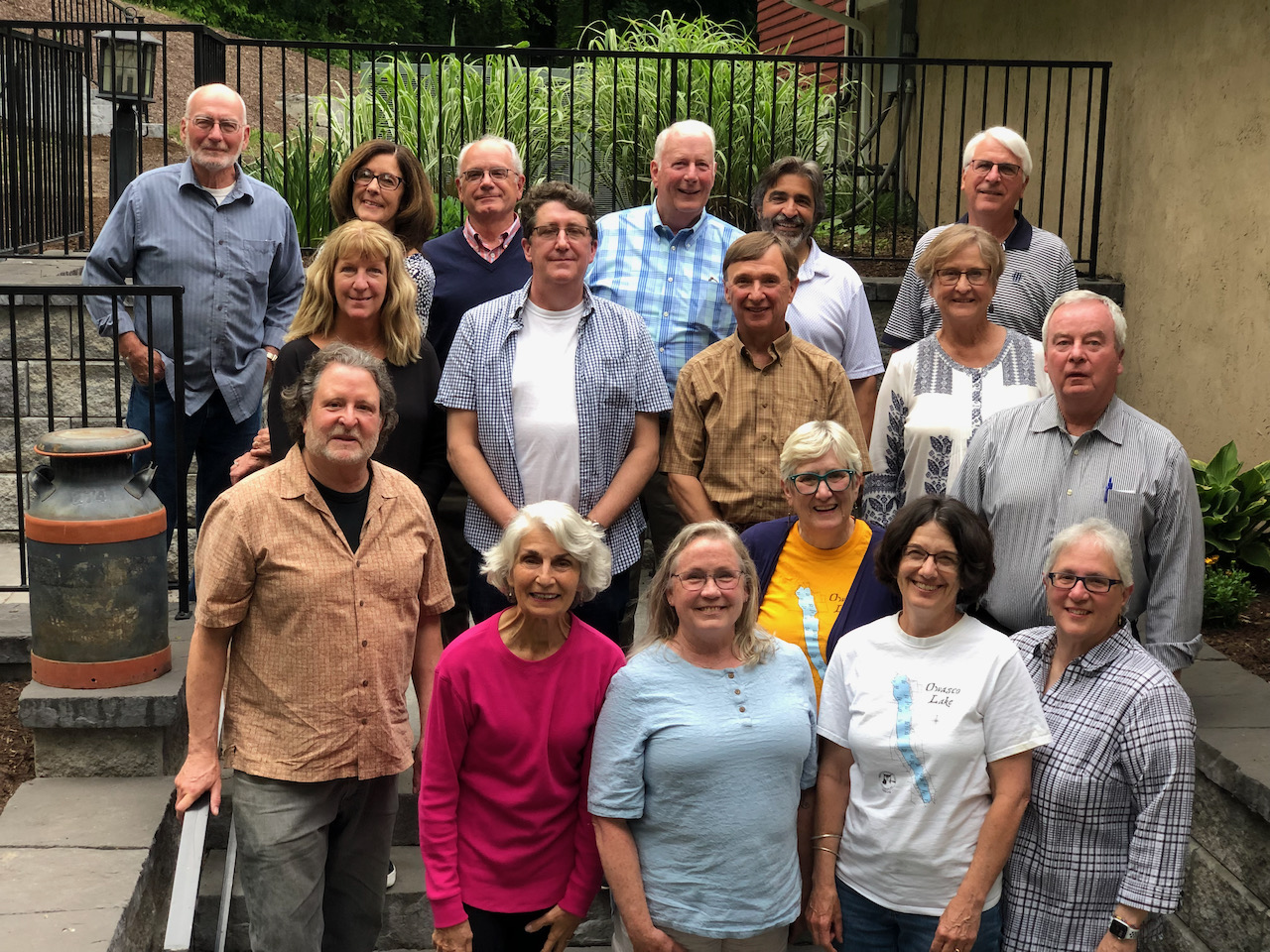 Earlier this month, the Owasco Watershed Lake Association held its 33rd annual general membership meeting via a virtual cocktail party from the Springside Inn in Fleming. Living through this pandemic has honed our group's inventiveness and imagination. What a great group to be part of. Kudos to the committee, who creatively planned this grab-'n'-go refreshment of signature Owasco Lake Lemonade cocktails and homemade strawberry shortcake with fresh crème. The trivia questions on "What is a watershed?" helped us better connect our impacts in a larger realm. OWLA is not just a hands-on, boots-dirty, take-action, nonprofit organization. We also celebrate and take time to acknowledge the fruits of our efforts.
During the public forum, OWLA President Dana Hall highlighted recent and ongoing Owasco watershed work projects to our active, growing group of members and the public, who like-mindedly make it a priority to protect and restore Owasco Lake. They heard about the invasive hemlock wooly adelgid's negative impact and this year's $25,000 treatment campaign within the watershed that ultimately will reduce erosion and sediment from reaching the lake. For our 2021 Earth Day activity, OWLA volunteers planted 2,500 willow tree canes and grass to create a natural buffer between agrarian land use and a large tributary flowing into Owasco Lake. The Cayuga County Soil and Water Conservation District's roadside ditch mitigation projects have been bolstered by OWLA raising $45,000 to offset costs of hydroseeding and rock lining to reduce erosion and sediment runoff reaching the lake.
It is vitally important to be watershed-aware — a message the Owasco Watershed Lake Association wants the public to recognize and personally exercise. Everyone living in the watershed, not just the lakeshore residents, can help protect and restore this natural resource we all depend on. Overall, it is a critical component in a long-term strategy to minimize the occurrence and severity of harmful algal blooms in Owasco Lake. It is based on creating an informed population of landowners, businesses and recreational users of the lake and the surrounding watershed.
Remember: A watershed is an area of land that collects water from rain or snow that drains to the same place. The water collected in the watershed seeps into the ground or flows into tributaries, streams, and ultimately the lake. The Owasco Lake watershed continues its flow into the larger watershed of Lake Ontario, and onto the Atlantic Ocean.
What does that mean? Through watersheds, we are all connected! When our forests are clear-cut, or we add more paved roads, or leaky septic systems go unrepaired, these things can wash pollutants and sediments into our tributaries, rivers and lakes, and the availability of clean water for people and wildlife is diminished. What chemicals you apply to your lawn and how you dispose of your yard clippings and pet waste all have an impact. It is important to raise awareness of how we, the public, can harm or improve our local watersheds. Knowing that our actions can cause problems, we can support solutions that help us to live in better balance.
Owasco Lake provides drinking water to over 40,000 residents in Auburn, Owasco and surrounding communities. It is an excellent recreation spot for all seasons of the year. Compared to other Finger Lakes, it is smaller and shallower, so its waters warm up much more quickly. During the summer months swimming, water-skiing, boating and fishing are popular on the lake. Recreational uses in Owasco Lake are also negatively affected by bacteriological contamination and excessive growth of aquatic vegetation and algae.
What can you do to help? Protecting Owasco Lake is essential to the maintenance of our community character and the improvement of our economic future. We encourage everyone to help the Owasco Watershed Lake Association personally and/or financially by your time and membership donations. Visit owla.org to learn more. OWLA commands political attention and exercises it. We educate and inform at every opportunity. Become a part of the solution. Join OWLA today.
Watch this video posted to the New York State Department of Environmental Conservation YouTube page explains how watersheds work: